...Recycling items or materials with a touch of creativity,
a bit of inspiration and sometimes some repair
to create an item extraordinaire!
Below are some ideas and some available items for a variety of fun
and creative ways to RePurpose.
Take a look around at items in your home ...Got anything that you want to RePurpose?
Utility Cart
...this cart has been sold and is in the process of being RePurposed!
Check back for photos of this item extraordinaire!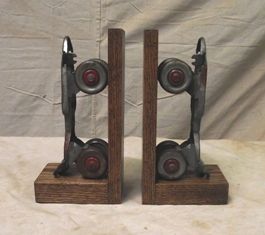 It's a GRATE table!
(and it's for sale at a great price...)
A Tree Grew in Yorkville
How will You and Russ RePurpose?
Photos don't do artwork justice but 'seeing is believing'
Contact Russ to schedule a time to visit him at his shop!

RUSS-toration
902 East Third Street, Sandwich, IL 60548
1-630-640-2419 Russ@Russ-toration.com
"The Art of Restoring Memories & The Craft of Creating Heirlooms" ~Fine Woodworking by Russ